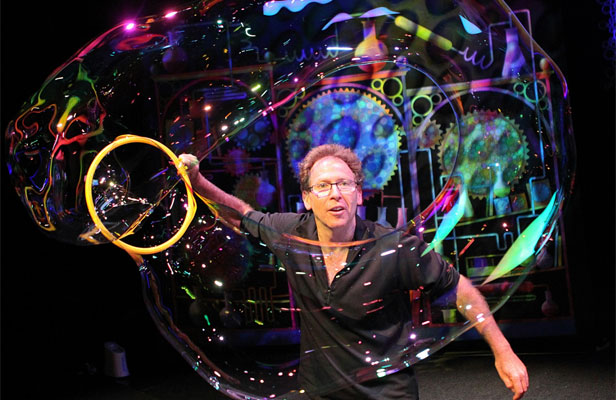 Amazing bubble man coming to Wellington!
Bubbles, by their nature, have a very short life span. The old song I'm Forever Blowing Bubbles describes them as pretty and flying high, but "like my dreams, they fade and die".
That is unless you are American Louis Pearl, who really is forever blowing bubbles.
Pearl not only blows or creates bubbles for a living, but he is very successful at it. He had two dreams: to make bubble toys and create bubbles to entertain people. Both dreams came true.
While Pearl will entertain audiences in Wellington next week with an array of bubbles of various shapes and sizes, he continues to benefit from bubble toys even after selling his toy company 10 years ago.
"My parents wanted me to be a doctor, but when I was about 8, there was a toy that made big bubbles 12 inches [30.4 centimetres] wide [that I saw] on TV. I begged my mother and father to buy it for me and they wouldn't. They said it was too messy.
"I often wonder if that's the reason I went into bubbles instead of medicine  to get back at them."
When Pearl, who lives near San Francisco, was 19, he was at the University of California, Berkeley, studying art. His performance art teacher suggested he create an activity a dozen students in the class could participate in at the same time.
"I got a bunch of cone-shaped pieces of paper and had everybody dip the large end of the cone into a soap solution," he says. The students blew on their cones at the same time, forming a giant 2.5-metre bubble. This big bubble rose out of the circle of people and that's what got me started. I used that design and I ended up with a shape to make bubbles with."
When Pearl finished university, he started to sell his bubble toy on the streets near the campus, often making bubbles to attract and entertain potential customers. He would repeat the group bubble experience from his class "thousands of times".
"I stood there for about three years, blowing bubbles, learning tricks and selling toys."
Pearl went on to set up a toy company in 1980. By the time he sold it, he had "147 bubble-related items" in its catalogue.
He has also written books about bubbles, made videos and his own bubble soap solutions.
Toys he created continue to be sold, including in New Zealand.
Pearl says he never stopped performing throughout his company years, but he decided to sell the company because he wanted to spend more time performing.
"I don't consider myself a good businessman. Luckily, I have great products, so I stayed in business, but I'm more of a performing artist than a businessman. Now, I just get to play with toys."
One reason for Pearl performing in New Zealand stems from his decision to perform at the Edinburgh Fringe five years ago. He was booked in a small venue and didn't expect a lot of interest, but hoped it would at least get him noticed by promoters.
"Then every show sold out and there were people clamouring to get in. It was families with their kids.
"I was a little upset because I wasn't getting discovered by an adult audience, but every show sold out and we added a second show every day."
Such was Pearl's popularity that he went back to the Fringe for another four years, drawing even bigger crowds. He would put on two shows a day for 27 days in a row "and all sold out".
The show for Wellington The Amazing Bubble Man is new and was developed with a British production company. It includes special lighting and a video screen, so the audience can see all the details of Pearl's creations.
The bubbles he will create are far beyond what most people are familiar with. They include square bubbles, giant "soap films", and bubbles filled with smoke or helium.
Audience interaction is important, with children often called on stage.
"So you never really know what's going to happen," says Pearl.
"Every show is unique and every bubble is different. The challenge in this show is that I've been given the licence to do everything I want and have all the stage props I want."
While the bubbles are likely to amaze, Pearl says there's no super-secret ingredients in his bubble mix.
On stage, he has three mixes for different types of bubbles.
"Basically, it's washing-up liquid," he says. "That's probably the best stuff you can get. Water is really important. I travel a lot and water can be really different. I use distilled water, but tap water is often fine.
"Another key ingredient is glycerin. The wall of the soap film is mostly water, and glycerin is hydroscopic. It holds water in and keeps it from evaporating.
"I use a lot of that, and I have some other trick stuff I put in that makes the bubbles stretch and get bigger."
As Pearl discusses bubbles, it's obvious he has never lost his childish wonder in the globes or his curiosity. He has even filled bubbles with hydrogen, although that's too risky for public shows.
Even when he's not entertaining, he's thinking about bubbles, although it does pose problems if he wants to relax. For one, he hasn't had a bubble bath for years. "If I had one, I'd be studying each little piece of foam.
"It's funny when you say what is work and what is not. I get paid to have more fun than I do doing anything else."